Nicole Dyer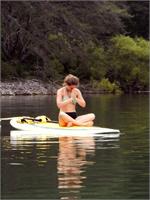 Nicole settled into Abingdon, VA about 2 years ago. Born and raised in New Hampshire, she spent her childhood in a small town in the Granite State. She received her B.A. in Anthropology & Sociology from Saint Michael's College in the Green Mountain State of Vermont, where she got a taste of Yoga & Pilates in her first class at the College. Her longing for more spirituality, culture and human connection only deepened from then on. She studied in Spain for a semester, where she was able to get a taste of other people & places throughout Europe, giving her the appreciation for a variety of other philosophies & beliefs beyond her own. With a passion for the Spanish language, she intended to further develop her knowledge & understanding by working in Peru, helping sustain an organization through providing education, assistance with mobile health care units, sustainable tourism efforts and preservation of the Peruvian heritage. The common theme of helping herself and others find a healthful, peaceful way of living guided her to her next journey, which has begun unfolding in Abingdon, VA.
After completing a year as an AmeriCorps VISTA with Feeding America Southwest Virginia in Abingdon, her passion for health & wellness, especially through nutrition, led her to become the Manager of the Abingdon Farmers Market. She is fortunate enough to work with local growers, farmers & businesses in the community, all with focuses on healthy livelihoods for the region. She also works as a Nutritional Consultant at the Whole Health Center in town, where she continually offers her health-based advice and learns an abundance of alternative healing methods from an incredible wealth of knowledge in the store.
How has yoga intertwined itself into her & her into yoga, in this picture? She began practicing about two years ago, which developed into the most rewarded outlet, both internally and externally in her life. She has found peace from within during her continual voyage with yoga, and yearns to spread & share this never-ending experience with others, as inexplicable as this personal journey can be at times. She will be completing her 230 hour Yoga Teacher Training fall 2014. Her training program will take her into yogic philosophy, asanas, and meditation while providing her with the tools to teach.She intends to offer teacher-in-training classes, team-teach & co-teach at the studio, while working towards the training completion. She is overjoyed and grateful to be welcomed to share this yearning to teach others at Whitetop Yoga, and looks forward to the experience with each and every individual that steps foot into the classroom.
Nicole Dyer instructs the following:
This class is a combination of approx 30 mins of physical, flowing yoga (yang) and approx 20 mins of passive yoga (yin), in a warm room (about 75-85 degrees). We will build heat & strength in the first half through a vinyasa style flow, while relieving stress & tension by connecting our movements with breath.

The second half of class is comprised of restorative poses (often including props) to encourage flexibility, mobility & mindfulness. The warmth, both from the heated room and internal heat created from the physically powerful practice, allows the mind & body to burn excess energy. This physical & mental purifying invites a quieter space for us to sink deep into yin poses with more ease and release.

Through this practice, we can allow energy to flow more freely throughout the body. We will also integrate essential oils into the practice (both aromatically & topically), along with physical touch in the form of assists, to help you achieve balance and bliss! This class is suitable for all ages, abilities & physical conditions, must be ok with warmer temperatures (never warmer than 85 though).