Victoria Blevins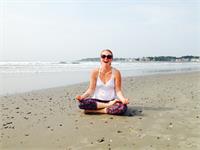 Victoria was born in Southwest Virginia and returned to the area in 2014 to be closer to family. Victoria studied Literature and Linguistics at Mary Washington College in Fredericksburg, VA. She was first introduced and fell in love with yoga while studying for her Masters degree in Linguistics in Sydney, Australia. After moving to Rhode Island in 2007, Victoria became intricately involved in a yoga community and developed a deep connection with the practice and its benefits. This connection to the loving spirit of the practice led Victoria to complete her RYT-200 in Integrative Yoga Therapy at One Yoga Studio in RI in 2008.
Victoria studied Speech Language Pathology at James Madison University in Harrisonburg, VA and has studied Integrative Movement Therapy at the Samarya Center in Seattle, Washington. She regularly draws from yoga in her treatment of speech, language and feeding/swallowing disorders. Victoria completed her Prenatal Yoga Teacher Training in May of 2015 at the Asheville Yoga Center in Asheville, NC.
Victoria has two boys, Alistair and Henry, who keep her busy and motivated. She loves spending time with her boys, being outside, cooking and interacting with her new community. Victoria is a founding member of Wolf Hills Heritage School, a cooperative early education school opening in the fall of 2016.
Victoria Blevins instructs the following:
Join us for a powerful asana practice, mediation and self-inquiry experience that will not only stretch, strengthen and empower you in body and being, but that will be more FUN than you have ever imagined possible on the yoga mat. We don't pretend that our partnership in your empowerment will be effortless — but it will be extraordinarily rewarding. Be prepared to sweat and smile!

*This class is not recommended for beginners




Grateful Flow is a blend of vinyasa and restorative yoga, lovingly crafted to leave you feeling strong, empowered, and at peace. It is a practice to honor and celebrate our bodies, minds, and spirits. This class focuses on intention setting, yogic philosophy, and cultivating a deeper sense of gratitude for ourselves and the world around us.This class includes modifications for all levels and is suitable for the beginner yogi.