Victoria Blevins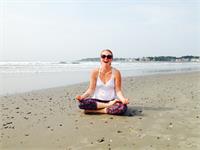 Victoria was born in Southwest Virginia and returned to the area in 2014 to be closer to family. Victoria studied Literature and Linguistics at Mary Washington College in Fredericksburg, VA. She was first introduced and fell in love with yoga while studying for her Masters degree in Linguistics in Sydney, Australia. After moving to Rhode Island in 2007, Victoria became intricately involved in a yoga community and developed a deep connection with the practice and its benefits. This connection to the loving spirit of the practice led Victoria to complete her RYT-200 in Integrative Yoga Therapy at One Yoga Studio in RI in 2008.
Victoria studied Speech Language Pathology at James Madison University in Harrisonburg, VA and has studied Integrative Movement Therapy at the Samarya Center in Seattle, Washington. She regularly draws from yoga in her treatment of speech, language and feeding/swallowing disorders. Victoria completed her Prenatal Yoga Teacher Training in May of 2015 at the Asheville Yoga Center in Asheville, NC.
Victoria has two boys, Alistair and Henry, who keep her busy and motivated. She loves spending time with her boys, being outside, cooking and interacting with her new community. Victoria is a founding member of Wolf Hills Heritage School, a cooperative early education school opening in the fall of 2016.
Victoria Blevins instructs the following:
Victoria and Megan invite you to advance your practice focusing on four basic, but often challenging, poses. Over four Thursday's in January, this class will assist you in exploring a deeper knowledge of these poses as they manifest in your own body and physical practice. Megan and Victoria will assist you in deepening your connection with your own movements and knowledge of your breath while encouraging you to challenge yourself. This class will focus heavily on body mechanics, the connection of movement and breath, and the use of hands-on assistance when appropriate.


This class is suitable for beginners as well as seasoned practitioners. Students should come with an open mind and a playful spirit.