Megan Hamilton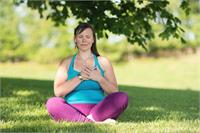 Megan Hamilton is the founder and director of Barter Theatre's Project REAL. Now in its 4th year, Project REAL has served over 3,000 students in 8 schools in VA, TN and WV.
The program provides qualified theatre artists who assist classroom teachers by utilizing theatre techniques to help teach the core curriculum through the lens of each student's life experiences. REAL also introduces kinesthetic social interaction tools, promoting rather than restricting physical activity. Working primarily with middle and high school students in both inclusive and disabled classroom. Megan earned her BFA in Theatre Performance and is receiving her M.A. in Liberal Studies with her focus on connecting the craft of theatre with educational psychology and embodied cognition. Megan is also a certified personal trainer through the National Academy of Sports Medicine, which allowed her learn the mechanics of the human body.
Megan is extremely excited to share the tools of mediation as a way to find stillness and connect the breathe with the mind and body. Through this practice, one can learn to deal with stress, treat his or her own health, and find his or her true voice.
Megan invites you to come find your breath and find the health benefits of meditation.
Megan Hamilton instructs the following:
Drop in group meditation for June. Everyone is welcome, no meditative experience is necessary. Simple meditation tools and practices will be shared along with insights and group discussions. Come be inspired, share this inner journey with others and enjoy meditation's well known calming and enlightening benefits.