Megan Hamilton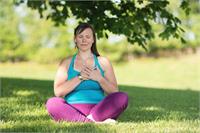 Megan Hamilton is the founder and director of Barter Theatre's Project REAL. Now in its 4th year, Project REAL has served over 3,000 students in 8 schools in VA, TN and WV.
The program provides qualified theatre artists who assist classroom teachers by utilizing theatre techniques to help teach the core curriculum through the lens of each student's life experiences. REAL also introduces kinesthetic social interaction tools, promoting rather than restricting physical activity. Working primarily with middle and high school students in both inclusive and disabled classroom. Megan earned her BFA in Theatre Performance and is receiving her M.A. in Liberal Studies with her focus on connecting the craft of theatre with educational psychology and embodied cognition. Megan is also a certified personal trainer through the National Academy of Sports Medicine, which allowed her learn the mechanics of the human body.
Megan is extremely excited to share the tools of mediation as a way to find stillness and connect the breathe with the mind and body. Through this practice, one can learn to deal with stress, treat his or her own health, and find his or her true voice.
Megan invites you to come find your breath and find the health benefits of meditation.
Megan Hamilton instructs the following:
Vinyasa yoga is a style of yoga focused on creating energy, freedom and vitality. Through the perfect balance of breath and movement, this flow style practice honors each individual and their needs. Vinyasa yoga enlivens the body, allowing for optimal health of the mind and body. All levels welcome.




Restorative Yoga is the yoga of non-doing. Even those with an active dynamic practice will benefit greatly from the inner peace and deep release of this class. It is the practice of entering into yoga postures using an assortment of props: blankets, bolsters, blocks, straps, walls etc. Supported and passive yoga postures allow the body to naturally release, letting go of held tension and stress. The results are a balanced state of being from inside out. A restorative class is a life enhancing practice and is appropriate for anyone at any age or stage of life and in any physical condition.