Camille Kingsolver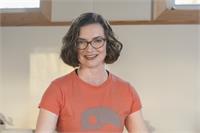 Camille has been a yoga teacher since 2004. She completed her teacher training in Santa Fe, New Mexico with Tias Little, who has a background in Iyengar yoga, Ashtanga Vinyasa yoga, and massage therapy. Since her original training Camille has had the good fortune to study with many other talented teachers including Lillah Schwartz and Cindy Dollar of Asheville, North Carolina.
Camille recently returned home to Southwestern Virginia after spending the last nine years in North Carolina, where she earned her BA in Anatomy and Biological Anthropology from Duke University and her MS in Clinical Mental Health Counseling from Western Carolina University. Camille encourages her students to be their most authentic selves by helping them find a balance between self-improvement and self-acceptance. She strives to create classes that are equal parts inspiring, challenging, and nurturing. In her sequences, Camille weaves together her passion for movement and fluidity with her knowledge of alignment and anatomy. Camille welcomes people of all ages, body types, and backgrounds to her classes.
Camille Kingsolver instructs the following:
Offered at a slower pace. This class is designed to focus on the fundamentals of yoga and incorporate them into a basic "Vinyasa flow" with an emphasis on breath work and proper alignment. Perfect for the true beginner or anyone wanting a refresher on the basics of yoga. You will feel great during and after class!




Join Camille for this flow class that moves fast enough to get the heart pumping but slow enough to make space for movement that is safe and sustainable. Great for beginners or more advanced students looking to deepen their understanding of alignment.