Amesha Whitt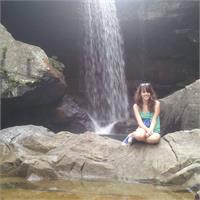 Growing up in Big Stone Gap and later moving to the tricities area, Amesha calls Southwest Virginia and Northeast Tennessee home. Her first yoga class was in August of 2014 and she knew immediately she would want to teach. She received her 200hr Yoga Teacher Training certification through Bristol Yoga and InnerSea Yoga in August of 2015 and has loved teaching ever since. Amesha believes that yoga is so much more than a physical exercise. It is a sharpening of the mind and a discovery of the spirit. It is a light shining on the Self and on All Things; a light she loves to shine on others through her classes.

She fully believes that yoga can improve any ailments – physical, emotional, or spiritual- for any person. Other than yoga, Amesha enjoys art, literature, traveling, and her clowder of cats.
Amesha Whitt instructs the following:
Join Amesha Whitt to start your weekends off with gratitude! This yoga flow class will focus on cultivating gratitude, as well as growing deeper into the physical and philosophical aspects of yoga.

This class is suitable for all levels.




Restorative Yoga is the yoga of non-doing. Even those with an active dynamic practice will benefit greatly from the inner peace and deep release of this class. It is the practice of entering into yoga postures using an assortment of props: blankets, bolsters, blocks, straps, walls etc. Supported and passive yoga postures allow the body to naturally release, letting go of held tension and stress. The results are a balanced state of being from inside out. A restorative class is a life enhancing practice and is appropriate for anyone at any age or stage of life and in any physical condition.




"Our deepest fear is not that we are inadequate. Our deepest fear is that we are powerful beyond measure." -Marianne Williamson

Join Megan Pintus after work Tuesday evenings for a new take on what it means to be powerful, both on and off the mat. When we think "power yoga," we tend to think about the physicality of our asana practice, about the chiseled arms we get from all those yogi push-ups, and about how far we can push ourselves physically: always seeking a bigger, better, stronger edge.

While this class does offer a physically challenging practice, students are guided through a flow much greater than the vinyasa itself, and that is the divine gift of our presence, breath to breath. Students of this practice will walk away knowing that our true power lies not in the strength of our physical bodies, but in our ability to remain present, to sit with whatever arises moment to moment, and to do all of this with steadiness and ease.