Tamara McNaughton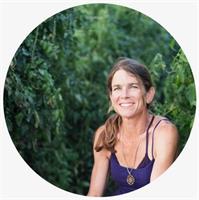 Although she didn't know it at the time, Tamara stepped on the path of yoga in 1992 when she took a Buddhism class in college. The winding journey of the next twenty years took her through experiences like living without electricity for a couple years; road tripping the country; voraciously reading eastern, shamanic, and quantum philosophies; studying Brain Gym and Touch for Health; experiencing Rebirthing; working with youth; and farming. She apprenticed on her first farm in 1996 where the demands of farming's physical labor yoked her to a practice of stretching and connecting with the earth and seasonal rhythms. In 2012 Tamara graduated from Neighborhood Yoga Teacher Training taught by Valerie Midgett and Kelly Golden to whom she is ever grateful.
Tamara now spends most of her time at TNT Farm N Greenhouse in Meadowview where she grows organic transplants and vegetables and grass fed beef with Tony. She sees her asana practice as one of tender power, flowing and holding poses, mindful of alignment, and gently infused with intention and philosophy so we might glimpse the limitless potential that resides in all things. Some days we're totally on and strong. Some days we are raw and vulnerable. Having recently returned to teaching yoga, Tamara hopes to meet class participants where they are on any given day, so we can get where we want to go.
Tamara McNaughton instructs the following:
Mindful vinyasa set to the backdrop of candlelight. A beautiful and peaceful way to breathe, move, and restore after a long day. Multi-level class, modifications will be given.