Tamara McNaughton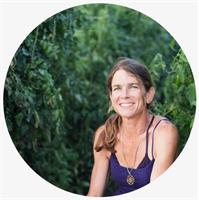 Although she didn't know it at the time, Tamara stepped on the path of yoga in 1992 when she took a Buddhism class in college. The winding journey of the next twenty years took her through experiences like living without electricity for a couple years; road tripping the country; voraciously reading eastern, shamanic, and quantum philosophies; studying Brain Gym and Touch for Health; experiencing Rebirthing; working with youth; and farming. She apprenticed on her first farm in 1996 where the demands of farming's physical labor yoked her to a practice of stretching and connecting with the earth and seasonal rhythms. In 2012 Tamara graduated from Neighborhood Yoga Teacher Training taught by Valerie Midgett and Kelly Golden to whom she is ever grateful.
Tamara grew up in the country outside Washington DC and left for college in 1991. She began studying Buddhism and sporadically practicing meditation in 1992. Her world was forever altered and enhanced from her solid Christian upbringing. In college she studied Anthropology which gave her the opportunity to learn and celebrate spiritual and worldly belief systems of the civilized and primitive. She lived without electricity and pursued advanced studies in Touch for Health and Brain Gym, learning about the meridian system, the wisdom of the body's rhythms and more. She apprenticed on her first farm in 1996 where the physical labor of farming required a practice of stretching her body and connecting with earth's natural rhythms. The combination of all these things would later come together in her practice of yoga. In 2012 Tamara graduated from Neighborhood Yoga 200 hr teacher training in Boone, NC taught by Valerie Midgett and Kelly Golden to whom she is ever grateful. Kelly reappeared in her world in Abingdon in 2017 with Vira Bhava 300 hr training. The path was ripe for Tamara to take her practice deeper still. Tamara spends most of her time at TNT Farm N Greenhouse in Meadowview where she grows organic transplants and vegetables and grass fed beef. Her asana practice is one of tender power, flowing and holding poses, mindful of alignment, and gently infused with intention and philosophy. Let's practice, walk the path, and grow together.
Tamara McNaughton instructs the following:
This 45 minute class is a quick shot of easy movement and relaxation in the middle of your day. Perfect to refresh during your lunch hour.




Yoga Sutra 1:33 offers 4 keys to create undisturbed calmness in our lives: friendliness, compassion, delight, and disregard. These 4 keys open the four locks (types of people) of the world: happy, unhappy, virtuous, and wicked. By having the 4 keys with you and using them with the right person, you will retain your peace, says Sri Swami Satchidananda. He also advises this one Sutra is worth remembering "whether you are interested in reaching samadhi or plan to ignore Yoga entirely". We will explore one of these locks and respective keys on each of the four days in this series.