Anna Hawkins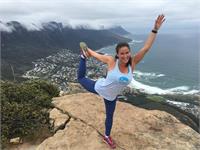 Anna was born and raised in Houston, Texas and moved to Abingdon in January of 2016 for a one-year work assignment. She quickly fell in love with the mountains, small town living, and the incredible Whitetop Yoga
community and found herself asking her company if she could stay indefinitely. She enjoys rock climbing
at Hidden Valley, wakeboarding and paddle boarding at the lake, and participates in Toastmasters in
Bristol.

Anna started practicing yoga in Houston in 2014 with hopes to nail her scorpion pose and get the perfect
yoga booty. It wasn't until she started practicing at Whitetop that she discovered that there is so much
more to yoga than the physical asana practice. She began to find peace throughout her life as a
reflection of her yoga practice and couldn't wait to learn more. She completed her RTY-200 with Julie
Rutherford and Vira Bhava Yoga in 2017 and is very excited to share her love of yoga with the community.
Anna is known for her contagious smile and energetic, joyful personality all of which you can expect to see shine through her classes. Be warned, these qualities may rub off on you when you attend a yoga class with
Anna.
Anna Hawkins instructs the following:
This class is a combination of approx 30 mins of physical, flowing yoga (yang) and approx 20 mins of passive yoga (yin), in a warm room (about 75-85 degrees). We will build heat & strength in the first half through a vinyasa style flow, while relieving stress & tension by connecting our movements with breath.

The second half of class is comprised of restorative poses (often including props) to encourage flexibility, mobility & mindfulness. The warmth, both from the heated room and internal heat created from the physically powerful practice, allows the mind & body to burn excess energy. This physical & mental purifying invites a quieter space for us to sink deep into yin poses with more ease and release.

Through this practice, we can allow energy to flow more freely throughout the body. We will also integrate essential oils into the practice (both aromatically & topically), along with physical touch in the form of assists, to help you achieve balance and bliss! This class is suitable for all ages, abilities & physical conditions, must be ok with warmer temperatures (never warmer than 85 though).