Anna Hawkins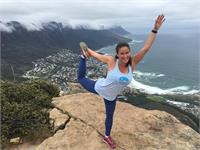 Anna was born and raised in Houston, Texas and moved to Abingdon in January of 2016 for a one-year work assignment. She quickly fell in love with the mountains, small town living, and the incredible Whitetop Yoga
community and found herself asking her company if she could stay indefinitely. She enjoys rock climbing
at Hidden Valley, wakeboarding and paddle boarding at the lake, and participates in Toastmasters in
Bristol.

Anna started practicing yoga in Houston in 2014 with hopes to nail her scorpion pose and get the perfect
yoga booty. It wasn't until she started practicing at Whitetop that she discovered that there is so much
more to yoga than the physical asana practice. She began to find peace throughout her life as a
reflection of her yoga practice and couldn't wait to learn more. She completed her RTY-200 with Julie
Rutherford and Vira Bhava Yoga in 2017 and is very excited to share her love of yoga with the community.
Anna is known for her contagious smile and energetic, joyful personality all of which you can expect to see shine through her classes. Be warned, these qualities may rub off on you when you attend a yoga class with
Anna.
Anna Hawkins instructs the following:
This 45 minute class is a quick shot of easy movement and relaxation in the middle of your day. Perfect to refresh during your lunch hour.




End your week with a little gratitude with Lauren Kilbourne. Her gentle flow will allow you to unwind from the week and begin your weekend focused on the breath, the body, and the heart.

This class is donation based! All proceeds benefit our 2 year long commitment to water quality locally and globally - with the Upper Tennessee River Roundtable and Water Warriors in Jodhpur, India!

Suggested Donation $5