Robyn Raines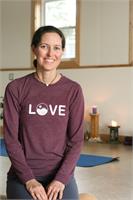 Robyn became the owner of Whitetop Yoga in 2017--believing both in the practice and community it creates. First introduced to yoga fifteen years ago, she has used her practice to work toward better life balance and is amazed by its ability to create space and time.
A southwest Virginia native, Robyn moved back to the region ten-ish years ago to work in the arts. Last year she completed her Master's Degree in Natural Resources from Virginia Tech's Center for Leadership in Global Sustainability. Currently she is the Center Director at Southwest Virginia 4-H Educational Center.
Robyn is looking forward to completing her 200 hour yoga teacher training with Vira Bhava at Whitetop Yoga in 2018.
As the owner of Whitetop Yoga, she is excited to support gratitude, mindfulness, and intention with the local community and visitors to the region.
Robyn Raines instructs the following:
This summer series offers a multilayered restorative practice. Robyn Raines will create each practice with a themed meditation to accompany the postures. Each week will have a different focus with guided visualization and poses that support that focus.

During summer, we often find that we put all of our energy out and fill every minute of the long days. This series gives you the opportunity to rest, digest, and renew.

We believe that meditation and restorative yoga compliment each other by giving physical postures to encourage relaxation of the body as well as a guide to encourage relaxation of the mind.

Feel free to come to one or all of the classes in this series! However, if you do come to all 5 you are eligible for our Series Special of 30 Days for $30.




Join Camille for this flow class that moves fast enough to get the heart pumping but slow enough to make space for movement that is safe and sustainable. Great for beginners or more advanced students looking to deepen their understanding of alignment.