Karen Baker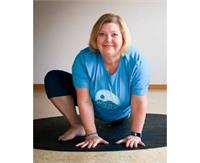 Looking to prepare herself for a career change in her life, and having heard the many benefits of yoga, Karen Baker came to a chair yoga class at Whitetop Yoga in 2015. With such a variety of class styles offered at the studio, she found herself 'hooked', finding a deep connection to her practice, the yoga community, teachers, and mentors.
Karen recently completed her 200 hour certification with Vira Bhava Yoga at Whitetop Yoga with guidance from many experienced yoga teachers and practitioners. She believes that yoga should be accessible to everyone regardless of age, body type, and fitness level. Yoga gives the tools to experience mindful living, lower stress levels, and improve flexibility and strength.
She has always called the mountains home and feels fortunate to reside in an area blessed with so much beauty. She lives with her husband, Scott, and dog, Brandi, on a farm in Meadowview. She enjoys reading, journaling, crafts, and gardening.
Karen Baker instructs the following:
Improve your strength, flexibility, and mobility through standing or seated yoga poses specially adapted for seniors at any level of health and fitness. Chairs and props are provided to keep everyone safe and supported.




A Taste of Whitetop will feature a sampling of our teachers! Each week a different teacher will offer a class in the style of their choosing.

Classes will range from gentle/restorative to flow to partner to playful! Bring an open mind and discover the diverse teachers and styles we are proud to have here at Whitetop Yoga!